Wednesday, August 31, 2016 at 12:23PM

Dear New Zealanders,

While in New Zealand John is teaching two full day Masters Courses on Stream Repair and Design - "Repairing Entrenched, Incised, and Degraded (Urbanized) Streams – Techniques and Case Studies". One class will be held in Auckland and one in Christchurch. Hope to see you there!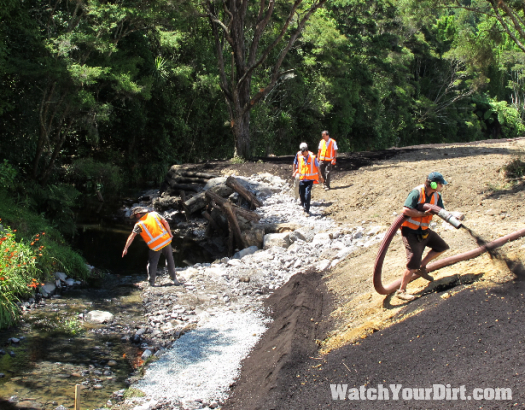 A RETURN TO LUCAS CREEK...
Lucas Creek, near Auckland/Albany, if you remember, was similarly "restored" back in October 2010. The term "restored" is used here loosely because, in fact, the stream function was restored to accommodate extensive urbanization - new motorways, shopping mall, rugby stadium etc.
Now, 6 years later, John and Robert Coulson visited the creek. It is performing beautifully and this has apparently been an extremely wet winter!
The accompanying photos show that the stream is Functioning Properly, e.g., "passing flood flows and channel sediment without visible signs of erosion. The vegetation is healthy and the aquatic habitat appears excellent". For this design, John used the published report , NCHRP Report 544- Environmentally-Sensitive Channel and Bank Protection Methods.
WatchYourDirt
|
Comment
|